Henk Duijn
The human deficit.
Henk Duijn is preoccupied with the way people interact with each other, or to put it more sharply, by the way they cause harm to one another. Whether he observes them in the street, in his immediate environment, or through images in printed or digital media, he continuously registers how people approach each other, get into contact or forbear to do so, or even worse. His paintings are the reports of such observations.
In one of the conversations that I had with Henk he cited Marcel Proust and Robert Musil as examples of authors who 'describe a "table" without mentioning the word'. Authors who invoke something, an atmosphere, a situation, an event that transcends the literal, who tell something without becoming anecdotal.
Henk Duijn does exactly the same with paint. With thin layers of acrylic paint he evokes and suggests – mostly on small panels – interhuman relations and situations without actually 'naming' it's nature or factuality. Through dark paint spots human forms loom. On some occasions just one, and at times multiple figures. Their mutual relation is far from unambiguous. Even the situation in which they bide remains uncertain, literally cloaked in darkness. Nowhere do these figures connect to the beholder: sometimes they're turned inwards, aligned with one another, or we see their backs, turned away from us. The spaces in which they are located show an unruly austerity and baldness that reveal nothing of a possible context. Compositionally they are almost like photographic croppings, in which time is being frozen, realities without any handhold. Details that could lead you to a specific situation are missing. The images are confronting and exciting. It is almost impossible for a beholder to remain indifferent or untouched; by watching one becomes a participant of the indistinct tensions between the portrayed figures. Yet the nature of those tensions remains unclear. The representations are ambiguous. As a beholder you remain in the dark: are they about loving or suffocating relations, are the embraces tender, or aggressive and suppressing?
When seeing the images you unwillingly get the feeling of unease and anguish. The strong light-dark contrasts used by the painter heighten the drama, while the subtly shown and hard to interpret relations are portrayed through the attitude of the characters, by the emptiness, the compositional interventions and the muted color palette he employs. In his work Henk Duijn is scanning the depths of the human soul, and he registers the human deficit with great virtuosity; sometimes in a moving, and at other times in a disconcerting way. His reconnaissances of the unconscious, the human soul, elude any form of indifference:
they are not only thought-provoking, they keep pursuing you.
Ingrid Luycks,
Tilburg, autumn 2013
Inspiration
"I draw my inspiration from operas of Richard Wagner, Richard Strauss and Samuel Barber as well as writers like Ludwig Wittgenstein, Marcel Proust and Robert Musil. Also from the music of Gustav Mahler. My search is about the values and meaning of life and subjects that concern the human deficit, such as in the opera Die Frau ohne Schatten by Richard Strauss, or about language not being able to express that which is the most fundamental in life." (Hugo von Hofmannsthal). "How dark is the basis on which our life rests." (Gustav Mahler)
Henk Duijn
Henk Duijn
.
Wie de schilderijen van Henk Duijn voor het eerst ziet, staat versteld van hun formaat. Ze zijn veel kleiner dan je op grond van reproducties zou verwachten. De meeste zijn vaak niet groter dan een hand.  Desondanks bezitten ze een monumentale kracht en een uitstraling die ze veel groter doen lijken. Door de sterke concentratie en samengebaldheid van de voorstelling kunnen zijn werken, hoe klein ze ook mogen zijn, toch de hele wand beheersen.
Bijzonder is dat de kunstwerken verkocht worden in een bijpassend doosje waarop een schetsmatige afbeelding van het kunstwerk is geschilderd. Henk Duijn heeft les gegeven op de Academie voor beeldende kunsten en vormgeving van de faculteit der kunsten van de Fontys hoge­scholen in Tilburg. Sinds 2016 woont en werkt hij in Zuid-Frankrijk.
Inspiratie
"Mijn inspiratie haal ik uit opera's van Richard Wagner, Richard Strauss en Samuel Barber en uit schrijvers als Ludwig Wittgenstein, Marcel Proust en Robert Musil én uit de muziek van Gustav Mahler. Mijn zoeken gaat over de waarden en de zin van het leven en over onderwerpen die het menselijk tekort betreffen, zoals bijvoorbeeld in de opera 'Die Frau ohne Schatten' van Richard Strauss, of 'dat taal niet kan uitdrukken wat het meest wezenlijk is in het leven' (Hugo von Hofmannsthal). 'Hoe donker is de grondslag waarop ons leven rust' (Gustav Mahler)".
Henk Duijn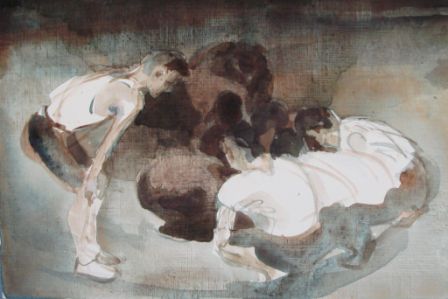 Publications:
Zinspelingen, museum de Wieger in Deurne, 2011
Das Unheimliche,  Luycks Gallery, Tilburg 2013
Het Ongewisse, Luycks Gallery, Tilburg 2017